Download the audioguide application Grottes du Cerdon on your smartphone
Discover a strange and exciting underground route shaped during the great ice ages. 
A 1H or 1H30 walk from the burial point of an old river until its resurgence in the middle of a cliff on a belvedere overlooking the Cerdon's valley and its vineyards.
Choose your visit:
Guided tour at fixed times, independent visit or visit in the form of a tale for the youngest.
Map of the Caves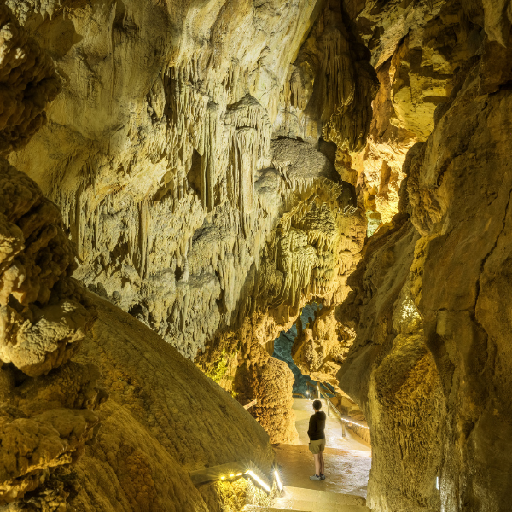 Maximum 8 people / group - Download the Grottes du Cerdon app (French, English, Dutch, Spanish)
Questions sur les Grottes
How long is the visit ?

For the 1st part: approximately 1 hour

For the 2nd part: approximately 1h30

Can we take a stroller in the caves ?

No because of the stairs! Please note that we provide baby carriers for free.

Can we visit the caves alone ?

You can opt for a self-guided tour (reserved for groups of less than 8 people). Children are the responsibility of parents or carers. It is forbidden to leave the main path and touch the concretions. Download the audio guide to your phone
Provide warm clothing for the visit of the caves (14°c to 4°c for 5/10 min) and comfortable shoes (return by a path in the undergrowth)
The rains have no effect on the activities which can be done under shelter
The Grottes du Cerdon are not subject to flooding